Aqaurium Products & Services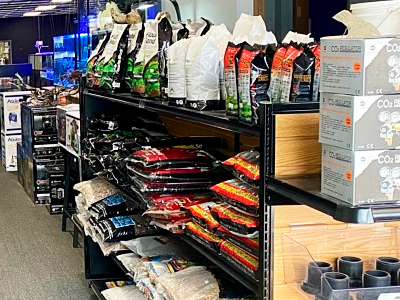 Nebraska Aquarium Supply offers a comprehensive selection of fish and reptile supplies. From food to shelter and everything in between for these pets, we have it all. We provide animals and fish that have passed our quarantine processes, assuring that you take home a healthy creature, and offer the best guarantee in the region for our livestock. Therefore, whether you're searching for a little shrimp tank, a vast customized reef tank, or a fantastic terrarium, we offer all you require to get started and maintain it for many years. You can source aquarium or terrarium products at our store that will stay healthy and thrive at your home or business. We carry saltwater fish, freshwater fish, aquarium plants, reptiles, turtles, tortoises, amphibians, and live coral, among other animals and aquatic plants. But that isn't all. We help with setup, maintenance, and care and carry lighting products, foods, and other supplies you will need.


Aquarium/Terrarium Maintenance
You can keep your favorite plants and animals in terrariums and aquariums. In addition to enhancing the aesthetics of your house, they will also enrich your life. While these enclosures provide all these advantages, they require frequent and adequate maintenance. We offer expert aquarium and terrarium care services to clients in Omaha, Nebraska, and the nearby areas. In addition to our collection of corals, plants, invertebrates, and fish, we also offer expert aquarium care services, and our services help maintain the health of your aquarium's population. We are experts in installing and maintaining aquarium tanks of all sizes. We can scrub and remove algae, handle water adjustments, and retain the filter water and quality. We will also do a thorough analytical and visual assessment during our visits. This is necessary to guarantee that you create the ideal environment to sustain various types of life. We offer programs tailored to your requirements and budget. Read More About Aquarium/Terrarium Maintenance »


Saltwater Fish
We have accessibility to the rarest and most difficult-to-find fish species on the planet and a selection of common species. What sets our fish apart from others? We have a vast supply of live saltwater fish, allowing us to meet customer demand. Our prior customers from Omaha, and Irvington, are pleased with our variety of products. We are confident that you will discover one ideal for your aquarium. You can also call our hotline for us to prepare your requests before you visit our store, and we will ensure that we keep your fish ready for you to source quickly. The fantastic thing about purchasing saltwater fish from our company is that we sell it at competitive prices. We are perhaps the sole pet fish business in the Omaha region that offers fair pricing on various fish species. It's why we have many returning customers who trust us to provide them with the saltwater fish they need. Read More About Saltwater Fish »


Live Coral
Live corals may improve the attractiveness of your aquarium and provide a touch of nature to your living room or wherever you keep your aquarium. The selection of these species to complement your aquarium depends heavily on your experience. You may be unfamiliar with aquarium setup, water flow, feeding requirements, and lighting. In this situation, our knowledgeable staff may recommend starter corals that are hardy, less demanding, and ideal for less experienced caregivers. Our assortment of living corals may significantly improve your marine aquarium. They contribute to the aquarium's cleanliness and biodiversity. Our soft corals often develop rapidly. They are tough and durable, making them ideal for novice aquarists. You can choose hard corals if you have experience in the field. No matter what type of live corals you desire, we can provide them. Read More About Live Coral »


Freshwater Fish
We have a fantastic assortment of aquatic species that all aquarium owners will like. Our business has served numerous aquarium owners, enthusiasts, and collectors in Omaha. For years, countless customers have counted on us for all their aquarium needs, and we've always supplied them with the best fish species. Whether you need a couple of fish or a dozen different types of freshwater fish for your aquarium, we can provide them. If the specified fish species is unavailable, we will do our utmost to locate it for you. Fancy goldfish, Discus, Rasboras, Rainbowfish, Tetras, Swordtails, Bettas, and Barbs are among the species we stock. Because we source our fish in bulk, it helps ensure that we can provide our clients with the pet fish they need at cost-effective pricing. With us, you get healthy fish and the best service, and we are proud to be the region's leading supplier of freshwater fish. Read More About Freshwater Fish »


Aquarium Plants
Aquarium plants or aquatic plants are suitable for smaller aquarium habitats. These groupings of flora are available as both saltwater and freshwater plants that come in various sizes and hues. Their care requirements and growth rates vary depending on the species and environmental circumstances. With our variety of saltwater plants, you can create a marine habitat conducive to the growth of saltwater fish. Together with your collection of tropical fish, these plants may enhance the attractiveness of your tank with their psychedelic forms and vivid hues. In addition to keeping your tank clean, these species also create a safer environment for your fish. When added to a tank, live plants can create a stunning aquarium and sustain health. The selection of appropriate plants can create the optimal water conditions necessary for maintaining a robust fish population. Our team will help you choose the best aquarium plants based on your needs and design. Read More About Aquarium Plants »


Reptiles
We provide an extensive assortment of unusual and exotic reptilian creatures at cost-effective pricing. Our collection comprises lizards, toads, frogs, snakes, turtles, salamanders, and tortoises, among other species. We provide our customers with only the best reptile variety and service. If you require reptiles from throughout the globe, you may count on us. All our reptiles are guaranteed. We have decades of experience in marine and reptile breeding and rearing. Our collection of reptiles consists of several kinds of tortoises, lizards, and snakes. In addition, we provide boas, ball pythons, and other species of reptiles acquired periodically from reputable breeders around the nation. Our mission is to supply diverse corals, fish, lizards, aquarium plants, snakes, corals, and related equipment. Our specialists offer various services, including advice, installation, and maintenance, to ensure that you have the ideal setting and habitat for your reptiles. Read More About Reptiles »


Turtles/Tortoises
We provide several types of these reptiles, including these sluggish Testudines. These reptiles are easy to care for when given the proper environment and when they are calm. They are likewise modest in size. Tortoises and turtles can live far longer than most other pets. Therefore, if you select one of us, you will make a lifelong buddy. In addition, we have an extensive assortment of corals, turtles, and tortoises. Russian tortoise, Green tortoise, CB red-footed tortoise, and CB cherry head red-footed tortoise are prominent species that customers prefer to buy. From consulting to putting up aquariums or terrariums and habitat maintenance, we provide a wide variety of services. We can help you create the ideal environment for your turtle or tortoise, including lighting, rock, heating, and other components. Before you purchase a tortoise or turtle from us, we offer you all the necessary information. Read More About Turtles/Tortoises »


Amphibians (Frogs)
Many species of amphibians would make excellent house pets or companion animals. They are usually slower-moving creatures with a reputation for having damp skin. They will need a water-based environment. We sell live amphibians, with frogs being our specialty. Some are large while others are modest, yet all are breathtaking to witness. When you order your pets from us, all our animals are guaranteed to arrive alive. Explore our store to discover the live frogs we have available. Before placing your order, we recommend you discuss your amphibians' care and environmental requirements with us. In Omaha, Nebraska, we are your one-stop shop for freshwater and saltwater fish, amphibians, and reptiles. Our mission is to offer an extensive assortment of fish, reptiles, corals, amphibians, and other pets, as well as food and habitat supplies, to our customers. Read More About Amphibians/Frogs »


Pond Plants/Supplies
Aquatic plants help maintain a healthy environment in a water garden. During the summer, you should cover at least one-third of the surface area of your pond with vegetation. There are four categories of aquatic garden plants from which to pick, allowing you to achieve the ideal balance. We have various aquatic plants to nourish and beautify your pond and offer hardy water lilies, floating pond plants, floating pond designs, submerged oxygenating pond plants, and tropical water lilies. Our company also supplies floating pond plants, bog marginal pond plants, hardy water lilies, and tropical water lilies. We are in Omaha, Nebraska, and we service consumers here and in the surrounding areas. In addition, we have a vast assortment of tropical and resilient water lilies. A water garden is insufficient without waterlilies. These plants, available in various sizes and hues, offer protection and shade to wildlife. The blooming period of hardy lilies can extend throughout the season. Read More About Pond Plants/Supplies »


Supplies & Care
We are the most comprehensive supplier of aquarium products for enthusiasts and everyone who enjoys colorful fish species. Whether you want to create a little aquarium, or a large aquarium stocked with exotic fish species, we have the necessary materials and aquarium equipment to meet your requirements. We have an extensive selection of aquarium supplies for both saltwater and freshwater aquariums, and our extensive product selection has made us the leading option for innumerable Nebraska clientele. We have many return customers in Omaha, Nebraska, as well as many first-time consumers from other regions. Whether looking for freshwater flora or saltwater fish, you've come to the right location. Our partner providers can supply aquarium supplies of the highest quality. Protein skimmers, skimmer and water pumps, reactors, rotors, lighting, and many more are available. Read More About Supplies & Care »


Foods
Our business offers the region's widest variety of fish and coral foods. You will discover a comprehensive line of Larry's Reef Frenzy, Hikari Frozen, Rods, Aqua Treasure, and Sally's products and a wide assortment of flake and pellet meals from Ocean Nutrition, Cobalt, Seachem, and New Life Spectrum. We also sell a variety of coral and plant food. Provide your freshwater /saltwater fish with the nutrients they need to be healthy. From classic tropical fishmeal flakes to carefully developed food pellets, we sell a selection of nutritional treats and snacks. Different species of fish require varied diets. We provide fish food for all species. Some species prefer thawed/frozen marine meals, including seaweed, plankton, and shrimp, while others like living foods. Therefore, we recommend that you perform a study or consult with our trained team before selecting the appropriate meals. We also sell pellets that sink for crustaceans. Read More About Foods »


Aquariums & Lighting
We provide an extensive selection of aquariums and fish tanks to help you build the ideal home for your amphibians and fish. Regardless of your level as a fish keeper, whether you require a modest aquarium or a fully automated system, our company has you covered. We provide a choice of aquariums and various aquarium kits to suit your interests and expertise levels. We provide a variety of starting packages to help you get started. You may select versions with built-in filtering systems to preserve water purity. For large-scale solutions, we provide fish tanks of various sizes. Our complete aquarium systems include cabinets, heaters, integrated filters, and lighting systems and are suitable for freshwater and saltwater aquariums. When deciding, we recommend that you evaluate all relevant considerations. Our friendly and professional team can also assist you in making the best choices depending on your specific requirements. Read More About Aquariums & Lighting »


Aquarium/Terrarium Design and Installation
A properly working life support system is essential for a successful aquarium or terrarium. Home installation of these devices involves more than meets the eye. We can design and construct your system after analyzing your needs and preferences. The design also will account for issues that could arise as the system evolves. While planning your aquarium or terrarium, our trained team will discuss your ideas. Once we thoroughly grasp your concept, we will develop the system. We service customers in Omaha, Nebraska, and the nearby region. Our professionals can build your system from the start and install it according to your needs and available space. Whether you need a custom aquarium, a wall-mounted fish tank, or a stand, we have the knowledge and resources to design and construct it. In addition to building and installing your customized aquarium, we can guarantee that the water flows smoothly. Read More About Aquarium/Terrarium Design and Installation »

We cater to customers throughout the region and understand that some will be more knowledgeable and experienced while others will be novices. You will find our staff to be proactive and friendly, and they will be more than happy to provide you with all the assistance you need. You can discuss your ideas and requirements, and they will recommend the best options. We help you maintain your aquariums and terrariums so that your pets have the perfect settings and environments. Browse through our collection here on our website, and feel free to visit our store to determine what products or fish you need. We guarantee you will be impressed with our vast selection of products, livestock, foods, accessories, and other supplies required to create the best terrariums and aquariums. For more information, please call us at 402-934-8206 or write to us via this Online Form, and we will call you back to help you with the details you need.